Optimum Results Adds Prestigious Accreditation To Their Trophy Cabinet
The Optimum Results team is delighted to be accredited by the All Ireland Business Foundation (AIBF) as the "All Star SME Management Skills Development Company 2021" joining over 500 best-in-class Irish firms across a multiplicity of sectors. The Company has been at the leading edge of SME Development for over 26 years, working with some 22,000 clients across 21 Countries. The Team focus on providing Management & Staff Competencies required to optimise the growth & profitability of ambitious client organisations. "From the very beginning we have worked on the basis that business is fundamentally about people and relationships, if you improve people's performance and the organisation culture, improvements in business performance follow, like night follows day" says Aidan Harte, founder and CEO.
The All Ireland Business Foundation (AIBF) defines its Accredited Companies as; "progressive, indigenous Irish businesses which meet the highest standards of verified performance, trust and customer centricity" and has three pillars of assessment: Business Performance, Trust and Customer Centricity.
No stranger to awards and accreditations, Optimum Results works to world-class quality standards ISO9001:2015, Human Resource Excellence (Gold) and BS8555. The Company is a Registered Practice of the International Institute of Management Consultants & Advisors (IMCA) and the only company to have three SME Business Development programmes classified by the European Union's Training Foundation (ETF) as "International Best Practice". Innovation and ICT has also played a very significant role in the Optimum Results success story over the past decade as it has dovetailed advanced Online, Blended Learning and LMS into its services for customers at home and overseas.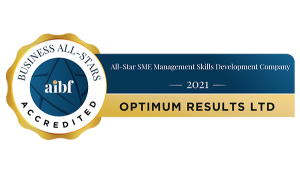 Based midpoint on the Dublin / Belfast Economic Corridor, Optimum Results employ a fulltime team of 20 supported by 18 Subject Expert Associates while its sister Company, Customer Perceptions, is Ireland's leading provider of Mystery Shopping & Consumer Research Services.
Further information can be found by visiting www.OptimumResults.ie.
eMail info@OptimumResults.ie
Call +353 42 93330333